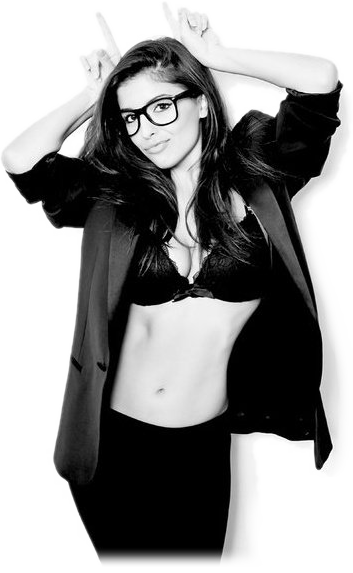 Kelly Schembri is an agency signed commercial & beauty model based in London & Malta. Kelly is internationally published and has worked alongside many established artists including Jay Sean, Keane, K'naan, Mila Kunis, Channing Tatum & Nicole Scherzinger. With a mixed Mediterranean & British heritage, Kelly has a unique and versatile look which can be used to represent many different cultures.
Kelly is also a talented Singer-Songwriter who made her debut singing appearance on 'The Eurovision Song for Malta 2011' with her track 'Love Me Like Your Money' (Borg/ Lundholm/ Rydemark). Kelly generated huge interest on the island and in Europe and had over 100,000 YouTube hits on her entry within the first few weeks running up to the contest. She made it to the finals and although she did not win the competition, she was honoured to represent Malta as their spokesperson on The Eurovision Song Contest 2011. (BBC ONE)
Since the Eurovision Kelly has been nominated for 'Best Female Artist' at 'The Malta Music Awards 2011' & performed her new track 'Kleptomaniac' (Borg/ Lundholm/ Rydemark) at the show. In 2012 Kelly went to Number 1 on The Bay Radio Malta Music Charts with her & DJ JJOY's track 'Love Hangover'(Borg/ Lundholm/ Rydemark) and also won 'The Best Dance Act' Award at The Bay Radio Music Awards 2012.
Kelly also collaborated with Miami based reggae artist Honorebel ( Honorebel has had hit songs with the likes of Pitbull, Sean Kingston & Akon) & Stephen Davids with their song 'Strip Search', which was also released in 2012. It had massive radio success in Malta and also hit the Number 1 spot.
Kelly is also the founding member of the London based group 'Monroe'. Monroe's credits include opening 'The London New Years Day Parade' to a global television audience of 280 million viewers and a live street crowd of 500,000. In the run up to the parade Monroe were invited to BBC Radio London where they were interviewed by Eddie Nestor and sang live on air for listeners. The girls debuted their single 'Go Home' which was later also supported & aired on BBC Radio London's 'BBC INTRODUCING' & on Malta's VIBE FM & BAY RADIO. Following the parade Monroe performed on 'The Malta Music Awards' alongside other artists including Peter Andre & also on several Maltese Television Shows & Radio stations. They also performed at the 'The Isle Of Wight Music Festival' & have opened for other artists including 'The Noisettes'. The girls look forward to revealing their new direction this year with a massive single release on the cards.
Putting Kellys recent modelling and singing projects aside, she also comes from a background of dance & drama, winning a scholarship to a Performing Arts College in the UK at the age of 17. She moved from her home in Malta and graduated 3 years later with a Diploma in Performing Arts. Since graduating Kelly has worked on various Television Productions, Movies, Music Videos, Television Commercials, Magazine Publications, Photographic Work and more recently was the official Body Double & Stand In for Mila Kunis on her recent movie 'Jupiter Ascending' working alongside other actors including Channing Tatum and Eddie Redmayne.
Follow Kelly on Twitter & Instagram @kellebomb